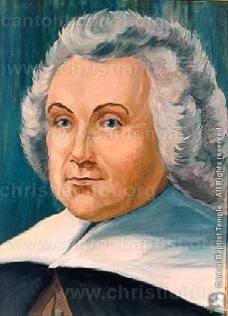 Roger Williams
1603 – 1684
Founder of the First Baptist church in America, Roger Williams was born in London and raised in the Episcopal Church, of which he was made a rector. Becoming dissatisfied with the ritual and ceremony of his church, he became a Puritan. He came to America and preached in Boston and Plymouth, Massachusetts, where he taught separation of church and state and complete religious freedom.
Williams created quite a commotion within a short time after his arrival and this is readily seen in an article of Cotton Mather's Magnalia: In the year 1654 a certain windmill in the Low countries whirling around with extraordinary violence by reason of a violent storm then blowing; the stone at length by its rapid motion became so intensely hot as to fire the mill, from whence the flames, being dispersed by high winds, did set a whole town on fire. But I can tell my reader that, above twenty years before this, there was a whole country in America like to be set on fire by the rapid motion of a windmill in the head of one particular man.
The windmill in the head of Williams was nothing more than stubborn honesty and forthrightness of speech. He denounced the failure of the churches publicly to separate themselves from the false practices of the Church of England. In addition he attacked the charter of the colony on the ground that the king had no title to the land and that a valid title could be secured only from the Indians.
Williams was banished from Salem for his convictions and preaching, after which he went to Narragansett Bay, where he did missionary work among the Indians. It was there that he founded the settlement of Providence, Rhode Island, on land purchased from the Indians. At this time he became a Baptist and was immersed in water for the first time since his conversion. He served as governor of the colony from 1654 to 1657, but he practiced his separation of church and state doctrines even as a civic ruler. He was distinguished from other New Englanders by the singleness of devotion with which he pursued the implications of assumptions common to them all. The will of God must be done in spite of all earthly considerations.