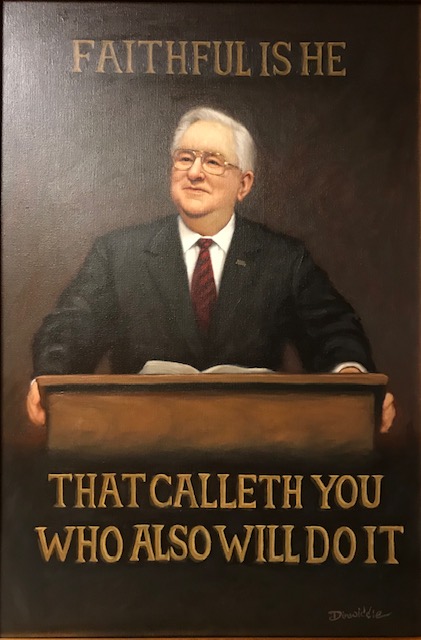 Jerry Falwell
1933 – 2007
Jerry Falwell was born in Lynchburg, Virginia, the son of an agnostic local businessman/bootlegger and a Christian mother. When he was a boy with little interest in church, his mother would tune in to Charles E. Fuller's "Old Fashioned Revival Hour," while Jerry and twin brother Gene were in bed so that they would hear the Gospel. It was not until he was a college journalism student at Lynchburg College that Jerry realized his need for the Savior. At age eighteen, he accepted Jesus Christ as his Lord and Savior. From that time on, he was committed to reaching people with the Gospel. His first endeavor in ministry was unremarkable, taking over a Sunday school class for boys while a student at Baptist Bible College in Springfield, Missouri. On the first Sunday, one boy attended. It was then that Falwell's bulldog spirit began to show. He printed up invitations and handed them out to boys throughout the city, inviting them to his class. Soon, dozens of boys were attending and learning about Jesus.
That same tenacity arrived with Falwell when he returned to his home town under God's calling to start a church. On the first Sunday, June 17, 1956, Thomas Road Baptist Church welcomed thirty-five people. Falwell committed to visiting every home in Lynchburg, often working well into the night to invite people to the new church in the former Donald Duck Bottling Plant. On the church's first anniversary, more than one thousand attended Sunday services. By 1969, average attendance had passed the two thousand level. The church continued rapid growth through the years, eventually counting more than twenty thousand members. Falwell was also able to see his father come to know Christ.
Falwell also became a pioneer in Christian broadcasting, beginning with a local radio broadcast and ultimately creating "The Old Time Gospel Hour" telecast which was eventually relayed on 390 television stations in America and abroad. It was through his nationally-televised church service that Falwell began to tell young people about a new college that was starting in Lynchburg. In the school's initial year of 1971, a handful of pioneering students enrolled at Lynchburg Baptist College. But again, rapid growth took place in the coming years. Today, Liberty University is the largest and most influential Christian college in America. The school is a continuation of Falwell's oft-stated heartbeat of training young people to serve Christ.
Falwell is also remembered for his effort to call America back to its Judeo-Christian roots through the Moral Majority, which was launched in 1979. It was through this endeavor that religious conservatives were awakened to become a driving force in the 1980 election of Ronald Reagan as our nation's fortieth President. Falwell remained a culture warrior throughout his life.
Under the auspices of Thomas Road Baptist Church, many nationally-recognized ministries were launched under Falwell's guidance, including: Liberty Christian Academy (K-12 school); the Elim Home for Alcoholic and Drug-Addicted Men; the Liberty Godparent Home for Unwed Mothers; the Family Life Services Adoption Agency; the Center for Global Missions; and many others. Throughout his ministry, Dr. Falwell was also an unwavering friend of Israel, urging Christians to never forget the biblical mandate to "pray for the peace of Jerusalem."
Following his passing in 2007, son Jerry Jr. took the reins of leadership at Liberty University as chancellor while son Jonathan followed in his father's footsteps as pastor of Thomas Road Baptist Church. Daughter Jeannie is a renowned surgeon in Virginia. Falwell was married to Macel (Pate) for forty-nine years and was the proud grandfather of eight who knew him as "Poppy."