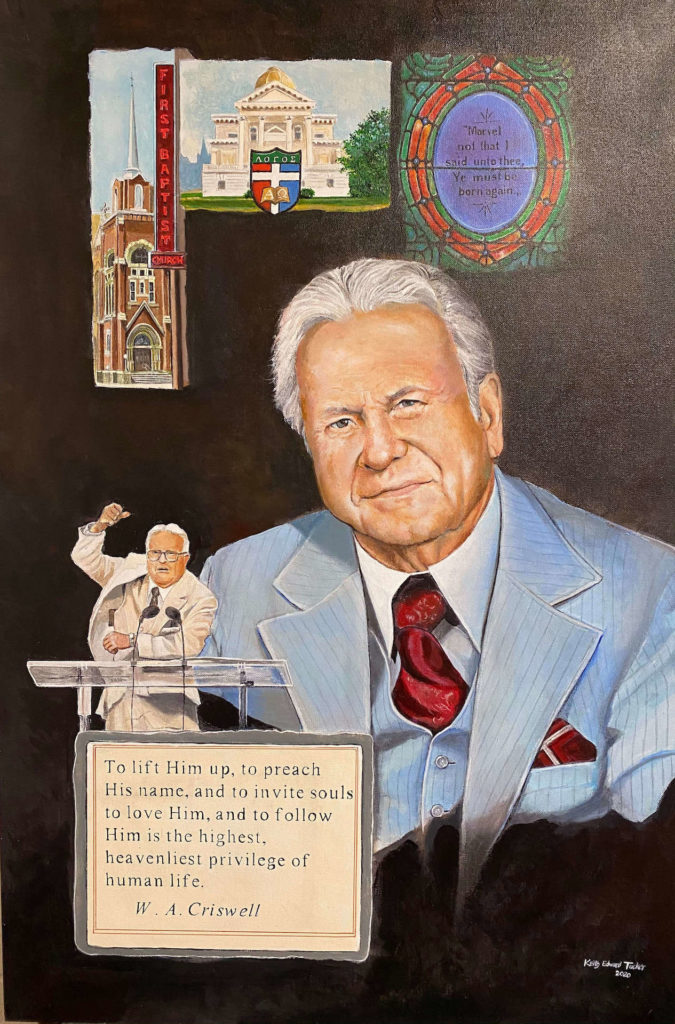 W. A. Criswell
(1909-2002)
W. A. Criswell began his seventy-five year long career in ministry as pastor of First Baptist
Church of Chickasha, Oklahoma and First Baptist Church of Muskogee, Oklahoma. He then followed
George W. Truett as pastor of the historic First Baptist Church of Dallas, Texas in 1944 where he served
for the next fifty years. Criswell popularized expositional, verse-by-verse preaching, and once took
seventeen years of Sunday sermons to preach through the entire Bible. On one New Year's Eve he
preached a message entitled "The Scarlet Thread Through the Bible" which showed that the sacrifice of
Jesus can be seen in every biblical verse. The message took four and a half hours! Criswell preached
more than 5000 sermons from the pulpit of First Baptist Dallas.
Criswell was a defender of a literal interpretation of the Bible and is credited with leading the Southern
Baptist Convention, of which he served twice as president, to a return of its conservative roots. Dr. Paige
Patterson stated that Criswell was a "redneck preacher with a scholar's head" that made it difficult for
his liberal theological opponents. Criswell received his B.A. from Baylor University and his TH.M and
PH.D from Southern Baptist Theological Seminary.
Criswell wrote fifty-four books, received eight honorary doctorates, started the Criswell College, First
Baptist Academy, four radio stations, including KCBI, and a 700-bed homeless shelter. However, his
greatest love was to preach the gospel and see First Baptist of Dallas grow to over 28,000 people under
his leadership.
Billy Graham, who was a member of First Baptist Dallas and considered Criswell his pastor, said that "his
preaching was electric in its power" and that "his devotion to Scripture inspired thousands of young
clergy….".
"To lift Him up, to preach His name, and to invite souls to love Him and to follow Him is the highest, heavenliest privilege of human life."

W.A. Criswell