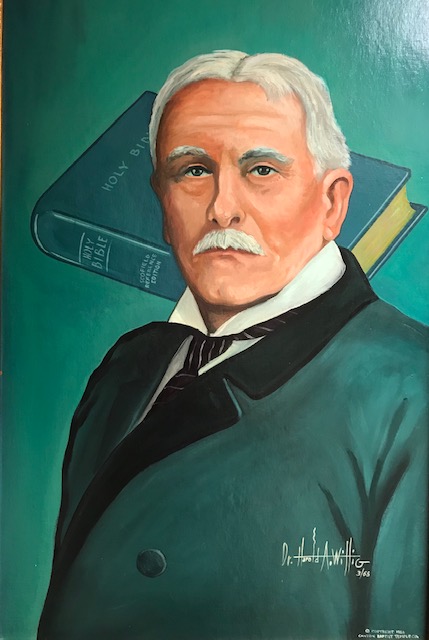 Cyrus Ingerson Scofield
1843 – 1921
Born in Lenawee County, Michigan, August 19, 1843, Cyrus Scofield became one of the foremost names among Bible students. His mother died at his birth, but before she died she prayed that this boy might become a minister. This was not told to Cyrus until after he entered the ministry. His family moved to Tennessee, where he received his early education.
As a boy, Cyrus had a thirst for knowledge and was exceedingly thorough in his investigations. Whenever he came upon a person or event of which he knew little, he would pursue the subject until he became knowledgeable concerning it. This prepared him to become a competent scholar later in life. Although his parents were Christian and the Bible was read in the home, Cyrus didn't consider it a book for investigative study but one to enjoy merely for its stories. His religious experience prior to conversion was superficial.
The Civil War prevented him from entering the university and he never did receive a formal collegiate education. At seventeen he entered the Confederate Army, and because he was an excellent horseman, he became an orderly. He frequently carried messages under gunfire. The Confederate Cross of Honor had awarded him for bravery at Antietam.
When the war was over, Scofield studied law in St. Louis, and afterward moved to Kansas, where he was admitted to the bar in 1869. He served in the Kansas State Legislature and at the age of twenty-nine was appointed by President Grant as United States District Attorney for Kansas. Later he returned to St. Louis and reentered law practice. During this time, he began to drink heavily. However, his passion for drink was completely removed when he received Jesus Christ through the efforts of Thomas S. McPheeters, a YMCA worker.
Scofield immediately became active in Christian work. He was ordained in Dallas, Texas, October 1883, where he began his ministry as pastor of the First Congregational Church. As a result of diligent and systematic study of the Scriptures during his years of ministry, he produced the Scofield Reference Bible and the Scofield Bible Correspondence Course.
Through the influence of private talks with Hudson Taylor of the China Inland Mission and a book by a brilliant journalist traveler, William Eleroy Curtis, Scofield felt God directing his attention toward the Central American region for missionary activity. The church at Dallas began giving more to missionary work than to the home work. They established the Central American Mission in 1890.
Concerning the Reference Bible, he asked himself this question: "What kind of reference Bible would have helped me most when I was first trying to learn something of the Word of God, but ignorant of the very first principles of Bible study?" This was a tremendous undertaking and took a great deal of tedious work and genius. He and his wife made trips to England and the continent while completing the work. The Oxford libraries were opened to him, and the Oxford University Press published it. It was completed in 1907 and presented to the public in January 1909.
In reflecting upon his own lifetime Scofield recalls the two great epochs of his life: "The first was when I ceased to take as final human teachings about the Bible and went to the Bible itself. The second was when I found Christ as Victory and Achievement." Scofield died on Sunday morning July 24, 1921, at Douglaston, Long Island. Hundreds of thousands now appreciate and use his famous Scofield Reference Bible.