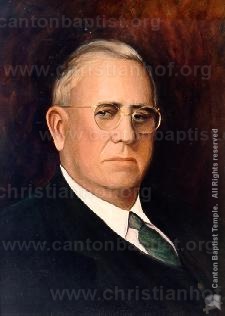 Reuben (Uncle Bud) Robinson
1860 – 1942
Uncle Bud Robinson was born in a log cabin in the primitive mountain region of Tennessee. When he was sixteen his father died, and his mother sold what little they had and moved to Texas. In August 1880, during a camp meeting he felt deep conviction for his sin and received Christ as his Saviour. That same night, while lying under the wagon, he felt that the Lord had called him to preach. He had no formal education, and stuttered so badly that he could hardly pronounce his name clearly. Yet in the first year of preaching he saw about three hundred conversions in his meetings. On January 10, 1893, he married Miss Sallie Harper at Georgetown, Texas. For the next two years he preached on the Hubbard Circuit. The remaining forty-seven years of his ministry were given to evangelism.
Uncle Bud had a wisdom all his own, with unusual insight into the purpose for the redeemed man here on earth, a holy walk day by day. His personal philosophy is reflected in the following request he prayed each morning: "O Lord, give me a backbone as big as a sawlog and ribs like sleepers under the church floor; put iron shoes on me and galvanized breeches and hang a wagon load of determination in the gable-end of my soul, and help me to sign the contract to fight the devil as long as I have a vision and bite him as long as I have a tooth, and then gum him till I die. Amen."
During his long ministry Uncle Bud is estimated to have traveled over two million miles, preached over thirty-three thousand sermons, was the human instrument responsible for more than one hundred thousand conversions, personally gave more than $85,000 in assisting young people with their Christian education, secured over fifty-three thousand subscriptions to his church paper, The Herald of Holiness, and wrote fourteen books that sold more than one-half million copies. God used him greatly. From Boston to Los Angeles thousands thronged to hear him, charmed by his homespun wit and his unique presentation as a preacher of the old-fashioned Gospel to the common man.