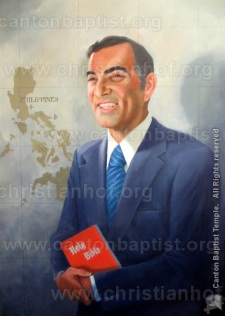 Robert Earl Hughes
1932-1976
Robert Earl Hughes was born August 8, 1932 on a farm in Center, TX, to Theron and Thelma Hughes. One of ten children, Bob quit school after the 8th grade to help care for the family because it was a difficult time. At the age of 17 Bob joined the Air Force and was stationed at Clark Air Force Base in Manila, Philippine Islands – a decision that would change his life.
Revival had come to his hometown and many were saved under the preaching of Dr. John R. Rawlings, but Bob's salvation came as a result of the work of missionaries Frank Hooge, Elmer Gullion and Joe Vella in Manila. God burdened his heart to reach the Philippines with the Gospel, so after his discharge he entered Baptist Bible College in Springfield, MO for training. While in school he met and married Helen Johnston in 1954 and then graduated in 1955. Within four years from the time he left the Philippines, Bob and Helen and a daughter, Cindy, returned as missionaries. Soon after, another daughter Karen was born.
Through the influence of Fred Donnelson, the Hughes family was challenged to reach Cebu City –a busy college town steeped in Catholicism. In 1957 they met in a rented building and soon began Bible Baptist Church. The ministry grew rapidly as a result of Bob's creative ideas – a radio broadcast called "What the Bible Says," a television ministry, and extension classes held throughout the surrounding area. The radio broadcast brought him great exposure and he became known as "Mr. What the Bible Says." Because of their strong evangelistic outreach, by 1975 twenty thousand people were attending the overall ministry. One national pastor said, "We went because he went!'
In 1964 Bob Hughes returned to the US with a realization of the need for more missionaries. He implemented the Faith Promise Missions Program to raise additional funds and personnel to meet the growing needs. He presented his burden throughout the US (visiting Canton Baptist Temple in November, 1970.)
Later God burdened his heart with the awareness of the need for the people to have a copy of the Bible. His vision was to print a million red New Testaments to be distributed. (This burden is depicted in our portrait.)
In the midst of all these ministries, Bob was diagnosed with colon cancer in 1975. He returned to the States for treatment. En route to the airport on what would turn out to be his last day in the Islands, he passed by a man on the corner reading one of the little red New Testaments. On August 21, 1976 God took him home to heaven at the age of 44. Following his death the dream of raising the funds for the million Bibles was realized.
Even though he died in the prime of his life, Bob's God-sized vision continues today. Next Sunday, March 25, 2007, Bible Baptist Church in Cebu will celebrate its fiftieth anniversary with a goal of 50,000 souls saved in 3 months and 50,000 people in attendance for the month. Bob Hughes' life prayer was that God would do such a great work that people would one day say, "That's not Bob Hughes' work; it had to be of God!"